Caledonia Best Seed Fund
Posted on
Aberdeenshire is One of the '
Caledonia
Best'...
Graduate's Goat Meat Company is Unveiled as Successful Seed Fund
Project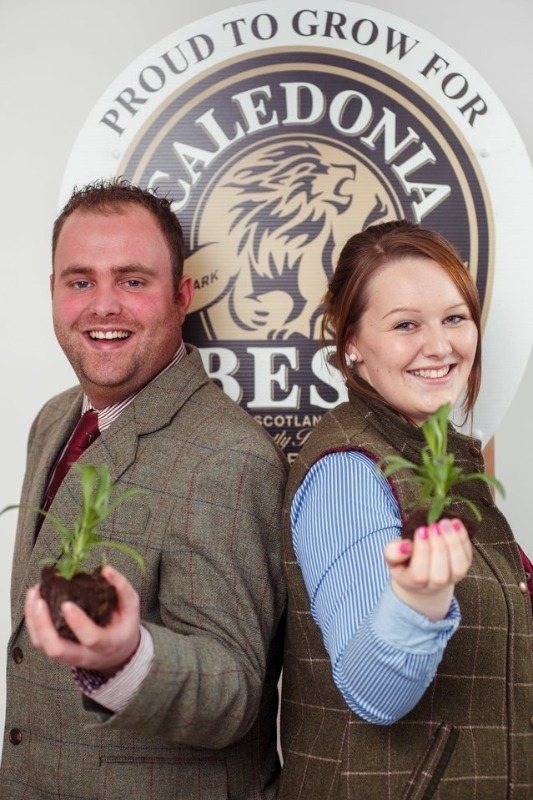 Leading Scottish ale Caledonia Best has today (13th November) revealed the exciting mix of projects being backed by its Seed Fund initiative, one of which is Victoria Gardiner and partner Adam Wright's plan to build a new Scottish goat meat company in Aberdeenshire.
Victoria and Adam's project is one of seven applicants that the Seed Fund is supporting, awarding them financial support necessary to get their projects off the ground. The successful proposals cover an extensive range of innovations in both farming and brewing in Scotland.
Victoria, a recent graduate of the Scottish Agricultural College, along with partner Adam – who is seeking a new entrant opportunity in farming – will receive backing from the Caledonia Best Seed Fund to invest in the goats they require to develop the new business.Victoria's dissertation led her to conclude that goat meat is a widely overlooked market in Scotland. The Scottish Goat Meat Companyaims to produce high quality, sustainable goat meat locally, and at an affordable price.
Marking the first anniversary since the launch of Tennent Caledonian's new ale, the inaugural year of the Seed Fund has seen Caledonia Best generate £58,000 to supportinnovative projects which may not have otherwise been able to happen – raised through a 5p donation in every pint sold in the first six months of the year.
'Adam and I are delighted the panel chose to invest in our new goat meat company. It was during my degree that my understanding and passion for goats began, and after graduating we knew we wanted to work in goat farming, but didn't know where to take it from there.We are extremely proud to be one of the projects supported by the Seed Fund this year, the backing Caledonia Best has offered has given us the means to begin our business seriously, and hope that this will also help our endeavours to secure a farm to run our company on. '
The Seed Fund's panel has been impressed with the high calibre of entries, as NFUS representative and Seed Fund panellist, Alison Gillespie comments:
'I have found the process incredibly rewarding, and along with the rest of the panel, I have been quite overwhelmed by the standard of proposals that were sent in from all over the country. The innovation and tenacity shown by those who entered has been inspirational.
'The current financial climate has proven to be a big challenge for our industry, and the support Caledonia Best has shown the Scottish farming sector through its Seed Fund initiative will prove invaluable.'
Professor Paul Hughes, Director of the Heriot-Watt ICBD adds:
'I am very proud to have been a founding partner of the Caledonia Best Seed Fund. It has been fascinating to discover what a positive difference this funding scheme can have, not only for individuals, but also the brewing and farming sectors as a whole.'
'This is an incredibly exciting time in brewing, with numerous micro-breweries producing new ideas and innovations every day – and that Caledonia Best is helping some of these projects get off the ground really is something to celebrate.'
The panel believes that farming and brewing ventures receiving support from the Seed Fund are diverse and rich with potential. The list below outlines the six other projects throughout Scotland that are being backed by the Seed Fund:
Anna Thompson will use the support offered from the Seed Fund to launch a range of Scottish flour, which she will mill at the farm she works on with her husband – something she has planned for years, but could only become a reality after receiving support from Caledonia Best's initiative

St Andrews' Eden Brewery has received funding to buy machinery which will enable the business to flourish

Aspiring farmer, Peter Will has been awarded funding to purchase the stock necessary to start a novel farming company outside Glasgow, with a view to beginning his own butchery business

NFUS New Generation Group will use funding offered to develop its communication skills to ensure Scotland is at the forefront of the European farming community

Scottish Borders Brewery and the Big Tree Society are planning an innovative collaboration to develop a new range of beers that will be naturally sourced through foraging. They plan to develop this project through online forums to increase awareness and test which flavours are most popular amongst the public

Dunfermline's Abbot House has been granted funding to renovate its outhouse into what was formally one of Scotland's most successful breweries. This will be a local historic tourist attraction
John Gilligan, Managing Director of Tennent Caledonian Breweries comments:
'When Caledonia Best launched in October 2011, as well as sourcing 100 per cent of our barley from Scottish farmers, we issued a pledge to donate 5 pence from every pint sold in the first six months of sale to support the industries at our heart – farming and brewing.
'Everyone needs a helping hand when they start in business, and as one of Scotland's oldest businesses and most experienced brewers, it's hugely rewarding to be giving back at the grass roots through the Seed Fund scheme.
'We look forward to working closely with all initiatives being supported by the Seed Fund, and to seeing how the funds are put to good use in 2013 and beyond.'