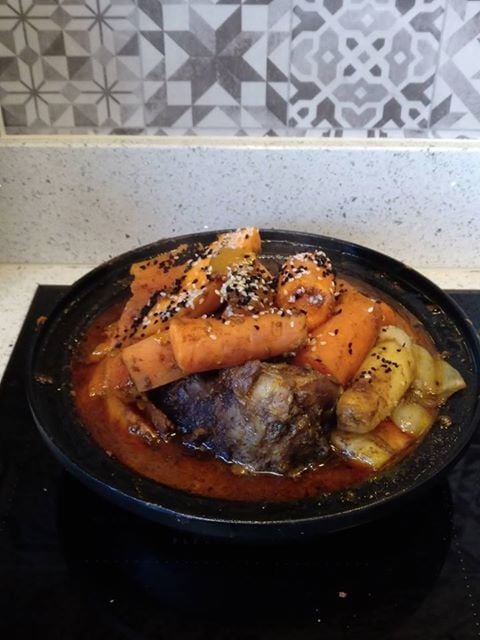 INGREDIENTS
1.5kg of goat meat (leg or shoulder) cut into approx. 1inch chunks or it is also lovely using shanks
2 carrots – chunked
3 potatoes, sliced thickly
2 tbsp rapeseed or olive oil
2 diced onions
3 cloves garlic, finely grated
1 thumb sized piece of ginger, peeled and finely grated
2tsp coriander seeds
3tsp cumin seeds
1 cinnamon stick
1 tsp black peppercorns
2 tsp ground turmeric
2 tsp sweet paprika
1 tsp picante paprika
1 tsp sea salt flakes
1 tbsp tomato purée
2 x 400g tins of chopped tomatoes
1 chicken stock cube
2 tbsp honey
1 x 400g tin chickpeas, drained and rinsed
A handful of dried apricots, halved, and soaked in water for about 30 minutes
METHOD
Preheat the oven to 160°C Fan, 350°F, Gas Mark 4
Add the coriander seeds, cumin seeds, cinnamon stick and black peppercorns to a cold pan over a high heat. Heat for a couple of minutes until lightly toasted and add to a spice grinder or pestle and mortar along with the other ground spices and sea salt flakes. Grind to a fine powder.
Season the goat well with sea salt and fry in batches, for a few minutes each, to brown the meat. Set aside.
Heat the rapeseed oil in a large flameproof casserole dish over a high heat and add the onion. Reduce the heat to low and slowly cook the onion for about 10 minutes until translucent but not coloured. Add the garlic and ginger and cook for a further 2 minutes. Add the tomato purée and cook for a further minute or two.
Add the browned goat meat to the casserole dish before adding the tinned tomatoes, chicken stockpot, carrots, potatoes and honey. Fill one of the empty tins of tomatoes with water and add to the pot. Stir together and bring to a gentle boil on the hob before covering with the lid and placing in the preheated oven.
Leave to cook gently in the oven for 2 ½ hours. Carefully remove from the oven adding the apricots and the chickpeas. Place back in the oven for a further 30 minutes.
Serve with couscous and some thick natural yoghurt.