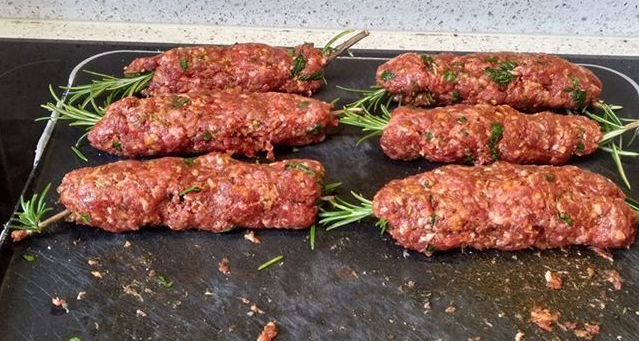 INGREDIENTS
500g Goat Mince
6 x Rosemary Sprigs
1/4 cup sweet paprika
2 tablespoons fennel seeds (ground)
2 tablespoons cumin (ground)
1 tablespoon coriander seeds (ground)
2 tablespoons salt
1 teaspoon cinnamon (ground)
1 teaspoon cayenne pepper
3/4 teaspoon black pepper
Optional: 4 teaspoons powdered sugar
METHOD
Place the rosemary sprigs to one side
Place the goat mince into a bowl and add all the other ingredients.
Using your hands, combine the mince and the ingredients together until mixed thoroughly.
Take a handful of the mince mix and roll into a sausage shape, then flatten.
Place the rosemary sprig in the middle of the flattened mix and wrap the mix round it - (repeat for the next 5 using all the mix).
Grill or BBQ on a low heat for 16 minutes, turning to make sure all sides are cooked.
Serve with salad, pita breads and a yoghurt dip