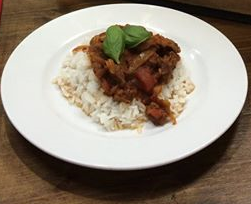 INGREDIENTS
2 or 3 groundnut/veg oil
3 lb goat cut into 2 inch cubes
2 large onions - chopped
2 fresh red chillies - sliced (optional)
3 tablespoons curry powder
300 ml or 1/2 pint coconut milk
1 fresh bay leaf
1/2 teaspoon ground allspice
300 ml or 1/2 pint chicken stock
2 tablespoons lime/lemon juice
METHOD
Heat oil in a pan and fry meat until brown. Remove and place in a large flameproof casserole.
Fry onions and chillies in pan until onions are golden brown.
Add curry powder and cook for a further 2 or 3 minutes, stirring.
Add fried onions to the casserole with the coconut milk, bay leaf, allspice, seasoning and enough stock to just cover the meat. Cover and simmer for 2 hours (or until meat is tender).
Just before serving add the lime or lemon juice and cook for 2 to 3 minutes.
Serve with rice.